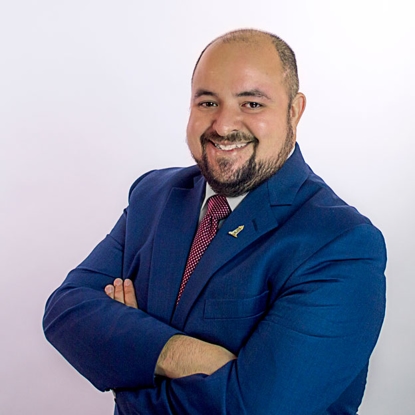 Pablo Hurtado
Bio
Pablo S. Hurtado, Esq. is the founder and owner of the Hurtado Immigration Law Firm, an immigration law firm focused on family-based immigration, waivers, and naturalizations. Based in Fort Myers, Florida, the Hurtado Immigration Law Firm serves clients nationwide and globally.
Mr. Hurtado, a graduate of Regent University School of Law in Virginia Beach, VA, is an attorney licensed in Florida and is an active member of the American Immigration Lawyers Association (AILA). Mr. Hurtado is frequently interviewed on local news broadcasts on Wink News, NBC2, Fox 4, Wink News en Español, Univision, Telemundo, and NPR due to his experience in practicing immigration law. Additionally, Mr. Hurtado has been a guest writer in Lawyer Monthly and Res Gestae discussing current immigration issues.
Mr. Hurtado has first-hand experience with the immigration process as he is an immigrant from Bolivia and became a U.S. citizen in 1996. Mr. Hurtado served his community as an Assistant State Attorney for two years before entering private practice.
Mr. Hurtado, is also a graduate of the Florida State University College of Business, earning his Master's degree in Business Administration with a concentration on Real Estate Investment.
The result is a law firm focused on providing immigration legal services to individuals and their families and guiding them as they come to the United States of America in their pursuit of happiness.
U.S. Consular Practice
Mr. Hurtado is proud to have clients from all over the world. He uses video conference solutions such as Microsoft Teams, our Client Portal, and e-mail to communicate with his clients in foreign countries who are seeking to immigrate legally to the United States. Mr. Hurtado has experience in dealing with U.S. consulates in many different nations and continents and understands how to work with the particular requirements that different U.S. consular posts may have.
Waiver Practice
Mr. Hurtado prepares and obtains waivers for clients who need a waiver due to inadmissibility issues (this includes the preparation of stateside provisional waivers). Waivers may be needed for unlawful presence in the U.S. due to overstaying a visa or previously entering the United States without inspection. Waivers are available for both immigrant and non-immigrant visa petitions.
Family Visas & Naturalization (Citizenship) Practice
Additionally, Mr. Hurtado represents his clients in the U.S. before the USCIS in family petitions, adjustment of status to that of a lawful permanent resident (green card petitions), as well as naturalization. Mr. Hurtado has a passion to encourage those eligible to apply for U.S. citizenship to do so as soon as they are eligible.
Mr. Hurtado has committed capital to the successful deployment of the Citizenship App. A free educational app that provides review and quizzing of all the civic questions and English requirement testing of the USCIS Naturalization exam. The app provides videos in English and Spanish to prepare for the USCIS exam. It is available on app stores for iPhone and Android devices.
There is no greater honor for the law firm to see a long-time client finally take their oath of allegiance to the United States of America.
Education & Further Recognition
Education is one of Mr. Hurtado's passions. He has served his community as an adjunct professor at Rasmussen College School of Criminal Justice where he taught Ethics to future justice professionals. In the past, he has served as legal counsel to a private primary school where he held a chair on its Board of Directors. Mr. Hurtado also sits on the Board of Trustees of his local church. Mr. Hurtado served as the local liaison for the office of legal counsel of a presidential candidate during the presidential primaries in 2016. Mr. Hurtado has been published in the Journal of Jurisprudence. The article was co-authored with Professor Kevin Govern from Ave Maria School of Law and is entitled "Diversity, Global Unity, and the Holy Trinity: Making Sense of World Events Through an Integrative Jurisprudence."
Mr. Hurtado represents our clients in matters involving:
Consulate practice with waivers including stateside provisional waivers
USCIS petitions including family and marriage petitions, adjustments of status for legal permanent residency (green card), naturalization/citizenship
USCIS petitions for DACA (sometimes referred to as DREAMers), VAWA, and U-Visa, victims of domestic violence and other violent criminal activity
USCIS interviews in field offices all over the state of Florida and the U.S.
Memberships & Professional Associations
Florida Bar (2007)
American Immigration Lawyers Association (AILA) (2011)
Education
J.D., Regent University School of Law - Virginia Beach, VA – 2007

Staff Editor for the Regent Journal of International Law (2006-2007)
Scholar of the Latin American Leadership Program – "LALP" (2003-2007)

M.B.A., Florida State University College of Business – Tallahassee, FL – 2020