App Serving Clients Globally
The Citizenship App 2022
Becoming a Citizen Just Got Easier With Our App
Is U.S. citizenship the ultimate goal of the immigration journey for you or a loved one? At the Hurtado Immigration Law Firm, our goal is to assist our clients with every aspect of this journey, which is why we developed The Citizenship App 2022.
Our app can help you prepare for both the U.S. Civics portion and the English proficiency portion of the citizenship test. By using this app every day, you can hone your skills and feel confident on the day of your interview.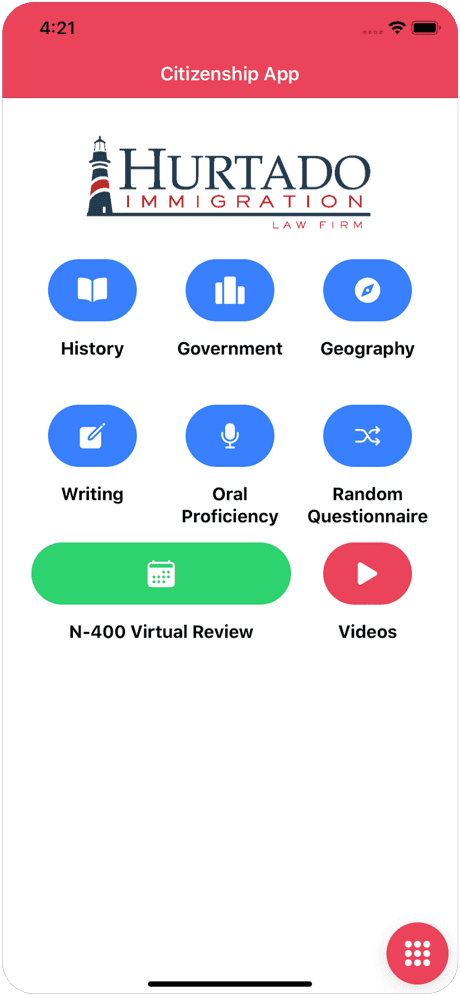 U.S. Civics
When the adjudicating officer tests your knowledge of U.S. civics, they will orally ask you ten questions, and you must answer at least six of them correctly. The officer will be randomly pulling from a bank of 100 possible questions, which The Citizenship App 2022 allows you to access and study at any time.
On the app you will see practice questions organized into three main categories: civics, history, and geography. You can unlock additional questions as you review, and you can translate the questions between English and Spanish with the click of a button. The app will keep track of the last question you reviewed.
You will also find a sample test, which randomly pulls from the 100-question bank, allowing you to regularly test your progress and see whether you have achieved the passing rate (6 out of 10).
Reading, Writing, & Speaking English
For the English portion of the test, the officer will assess your proficiency in reading, writing, and speaking. On our app, you can listen to ten different messages, write what you heard, and click "Show the Answer" to see how you did. Similarly, you can use the app to record yourself reading English aloud, and you can compare what you recorded to the app's pre-recorded samples.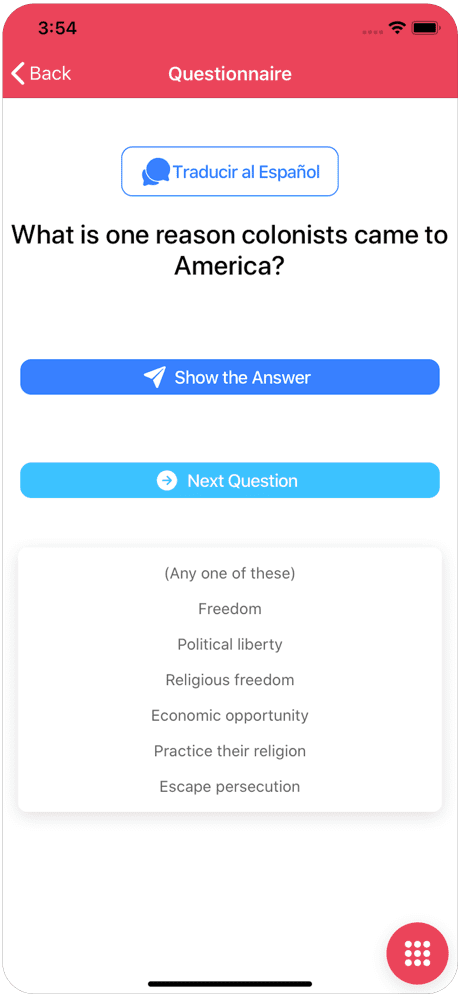 Other Features
The app also allows you to view and listen to a video of the 100 U.S. civics questions at any time (in English or Spanish). In addition to examination practice, the app includes an "N-400 Virtual Review" button that connects you with Hurtado Immigration Law Firm online. There, you can request your virtual meeting with our attorney, who can review your application before you submit it to USCIS.
If you have any questions for Attorney Hurtado, look for the "Contact Us" button on the app, which you can use to connect with us via e-mail or phone. We are here to address all your concerns, help you understand how to use the app, and give you everything you need to successfully navigate the naturalization process.
---
Download The Citizenship App 2022 for your Apple device here or your Android device here. You can also reach us at (239) 800-0580 or via an online contact form. Let's get started on your citizenship process today!
---